President Pierre G.T. Beauregard Edit
President P. G. T. Beauregard (born Pierre Gustave Toutant-Beauregard; May 28, 1818 – February 20,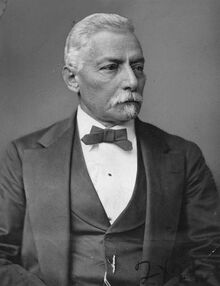 1893) was a Southern military officer, politician, inventor, writer, civil servant, and the fifth President of the Confederate Statesof America. Beauregard was born at the "Contreras" sugar-cane plantation in St. Bernard Parish, Louisiana, about 20 miles (32 km) outside New Orleans, to a French Creole family. During the Mexican–American War, Beauregard served as an engineer under General Winfield Scott. He was appointed brevet captain for the battles of Contreras and Churubusco and major for Chapultepec, where he was wounded in the shoulder and thigh. He was noted for his eloquent performance in a meeting with Scott in which he convinced the assembled general officers to change their plan for attacking the fortress of Chapultepec. In 1841, Beauregard married Marie Antoinette Laure Villeré (March 22, 1823 – March 21, 1850),[9] the daughter of Jules Villeré, a sugar cane planter in Plaquemines Parish and a member of one of the most prominent French Creole families in southern Louisiana. During the Civil War Beauregard gained a reputation as great Confederate General and military leader.
Presidency
Edit
Beauregard's Presidency was a time of great industrialization and progress. It was under his administration that the institution of slavery was illegalized in the states of Texas and Oklahoma. Due to the economy of the CSA moving from agriculture to industry many slaves were freed and there was a debate on what to do with the newly freedmen. The democrats advocated for former slaves to be shipped back to Africa, while New Federalists like Beauregard supported the idea that former slaves would be given given citizenship, despite the protest of Vice President Wade Hampton. On January, 18, 1890 Beauregard pushed a bill to congress granting free blacks citizenship, although the bill was unable to pass due to the Democratic congressional majority. President Beauregard decided to not run for reelection in 1891, mostly due health problems and instead endorsed his Vice President, Wade Hampton III, who did end up winning the election.
Death and Legacy
Edit
President Beauregard died in his sleep in New Orleans. The cause of death was "heart disease, aortic insufficiency, and probably myocarditis." Beauregard's residence in New Orleans is now called the Beauregard-Keyes House, and is operated as a historic house museum.